Professionally installed security systems will protect you and your family when you're home and when you're away. We offer all levels of protection – you can start with basic residential security systems or full perimeter wireless home security systems protecting all of your doors and windows – we design the security system to be the best protection to meet your family needs and budget. Plus a 24-hour monitored security burglar alarm system often makes you eligible for up to 20% off your homeowner's insurance policy.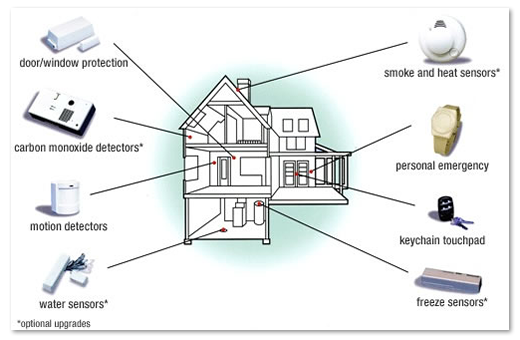 When it comes to your family's protection, you'll want a company you can trust – choose a company like Safe Guard Security that has their own employees who have been background checked, drug tested and reside in the same communities that you live in, not subcontractors from far away counties. Safe Guard Security prides themselves in professional representatives that provides quality properly designed protection that meets the need of each customer.
We stay up with leading technology – we offer smart phones compatibility, capability if available in your area, cellular backup so no land lines are required, two-way voice so emergency responders are aware of the event and don't treat the call as just another ringing alarm, plus the latest and greatest technology as it comes available.
How Do Security Systems Work?
Residential security systems start with a control panel. This control system is the "brains" of the system and is usually located in a closet, which essentially operates as a central computer. Our security systems for the home are operated by entering your security code at the keypad. The security alarm keypad is generally located at entry doors; keypads can arm and disarm with push-button ease, and literally put security at your family's fingertips!
Magnetic contacts are two-part devices used to safeguard windows and doors. One part of the contact is a switch installed in the window or door jam; the other contains a magnet and is placed in the window or door itself. A passive infrared motion detector (PIR) is an electronic security device that detects intruders by "sensing" motion or body heat in the area being protected. A 24-hour monitored smoke detector and carbon monoxide detector tied to the system can be a lifesaver. These devises are active 24-hours a day whether or not the system is armed.
When you're in search in the ultimate solutions in home security camera systems, wireless home security systems, and digital video security, you can count on us. Contact Safe Guard Security today!
Looking for Commercial Security Systems?